http://vf-images.s3.amazonaws.com/wp-content/uploads/2013/05/gramophone-diagram21.png

http://vf-images.s3.amazonaws.com/wp-content/uploads/2013/05/Theo_Parrish_Steve_Reid_FNDN_©_Tom_Morgan_101.jpeg

http://vf-images.s3.amazonaws.com/wp-content/uploads/2013/05/wooden-record3.jpg
exhibitions and eventsRead More
Dinos Chapman to debut A/V Luftbobler show at Sonar Festival 2013; stream a preview of "Alltid"

Taking to the stage at Barcelona's annual cutting-edge electronic music festival, artist and latter-day producer Dinos Chapman will premier the audio-visual show of Luftbobler. Anyone brave enough to first destroy and then recreate his own work in front of a [...]

Sound artist Haroon Mirza to launch /o/o/o/o/ exhibition at The Lisson Gallery

Sound artist Haroon Mirza returns to the Lisson Gallery for his second exhibition to showcase a series of light and sound-based installations that will be accompanied by an exclusive remix series set for release by The Vinyl Factory. Recipient of [...]

American Hardcore: An exhibition of US hardcore punk singles (11th April – 4th May)

The Vinyl Factory and The Mott Collection announce a new exhibition and publication: American Hardcore, 1978-1990. Bringing together 50 American hardcore records spanning the apex of the genre, Toby Mott's invaluable collection tells the story of hardcore punk through its iconic, anarchist artwork.

Nick Rhodes photographic exhibition – "Bei Incubi" (8th March – 6th April)

The Vinyl Factory and TV Mania present "Bei Incubi", a photographic exhibition by Duran Duran's Nick Rhodes. Subversive and deeply personal, the images featured in Bei Incubi were originally intended as artwork for TV Mania's new release Bored with Prozac [...]

Dinos Chapman 'Luftbobler' Audio Visual Show (28th Feb – 3rd March)

In celebration of his debut album, Dinos Chapman has created a site specific audio visual installation of 'Luftbobler' for The Vinyl Factory, which will be open to the public from Feb 28 – March 3 2013. The show will premiere [...]
the soho gallery
The Vinyl Factory Soho is a unique gallery space in the heart of central London. Over the past five years it has hosted audio-visual shows from artists including Dinos Chapman, Grace Jones and The xx as well as music showcases with labels including Island Records, XL and Universal. It has two rooms covering approximately 6,000 sq ft. and is available to hire for exhibitions, presentations, trade and fashion shows, press days and launch parties.
For prices and further information, please email antony.hill@thevinylfactory.com or call 020 7025 1385.
Please click on the image on the right for prices and more information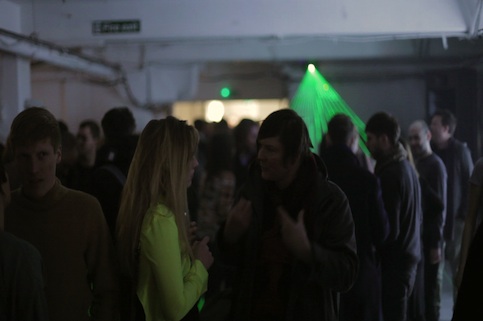 the chelsea gallery
Vinyl Factory Chelsea is the newest addition to the Vinyl factory network of galleries. Located in the exclusive Walton street, it features 2000 sq ft of gallery space where music meets art.
Mon – Sat | 1030 – 1800 | 91 Walton St | SW3 2HP
+44 (0) 207 589 0588
chelsea@thevinylfactory.com
the vinyl factory manufacturing
Our manufacturing unit produced some of the most emblematic vinyl records in music history and continues to do so. Through our expertise, artists continue to crystallise their music into the most coveted vinyl editions on earth.
The Vinyl Factory Manufacturing
Apollo House
Blyth Road
Hayes, Middlesex
UB3 1SY
customerservice@thevinylfactory.com
+44 020 8756 1165