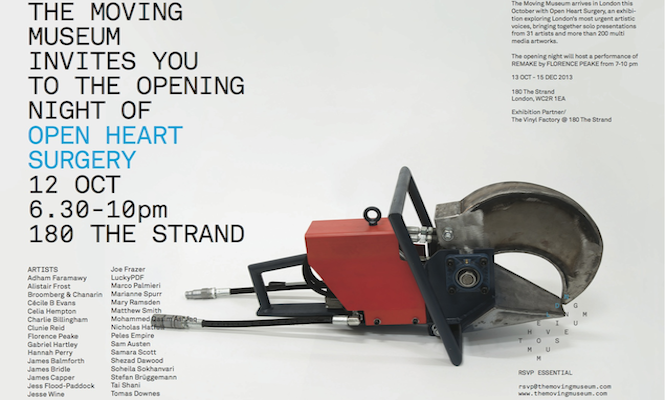 the soho gallery
The Vinyl Factory Soho is a unique gallery space in the heart of central London. Over the past five years it has hosted audio-visual shows from artists including Dinos Chapman, Grace Jones and The xx as well as music showcases with labels including Island Records, XL and Universal. It has two rooms covering approximately 6,000 sq ft. and is available to hire for exhibitions, presentations, trade and fashion shows, press days and launch parties.
For prices and further information, please email antony.hill@thevinylfactory.com or call 020 7025 1385.
Please click on the image on the right for prices and more information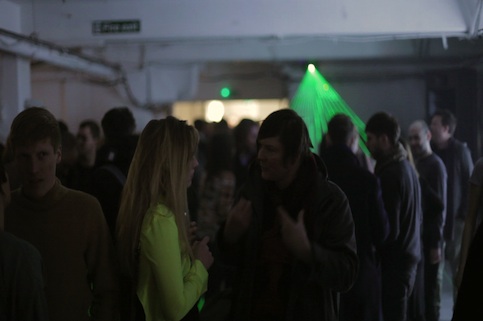 THE VINYL FACTORY @ 180 THE STRAND
This autumn The Vinyl Factory will welcome The Moving Museum to its new brutalist exhibition space at 180 The Strand. "Open Heart Surgery" will explore a diverse range of work from over 30 young and established artists working in the city.
180 The Strand is a new space to house all creative industries. Representing a new wave of creative collaboration, it will provide space for the most exciting, innovative business and visionary talents to co-exist and harness inspiration.
The Vinyl Factory @
180 The Strand
London WC2R 1EA

the vinyl factory manufacturing
Our manufacturing unit produced some of the most emblematic vinyl records in music history and continues to do so. Through our expertise, artists continue to crystallise their music into the most coveted vinyl editions on earth.
The Vinyl Factory Manufacturing
UNITS 3-5, ENTERPRISE HOUSE
133 BLYTH ROAD
MIDDLESEX
UB3 1DD
customerservice@thevinylfactory.com
+44 020 8756 7704